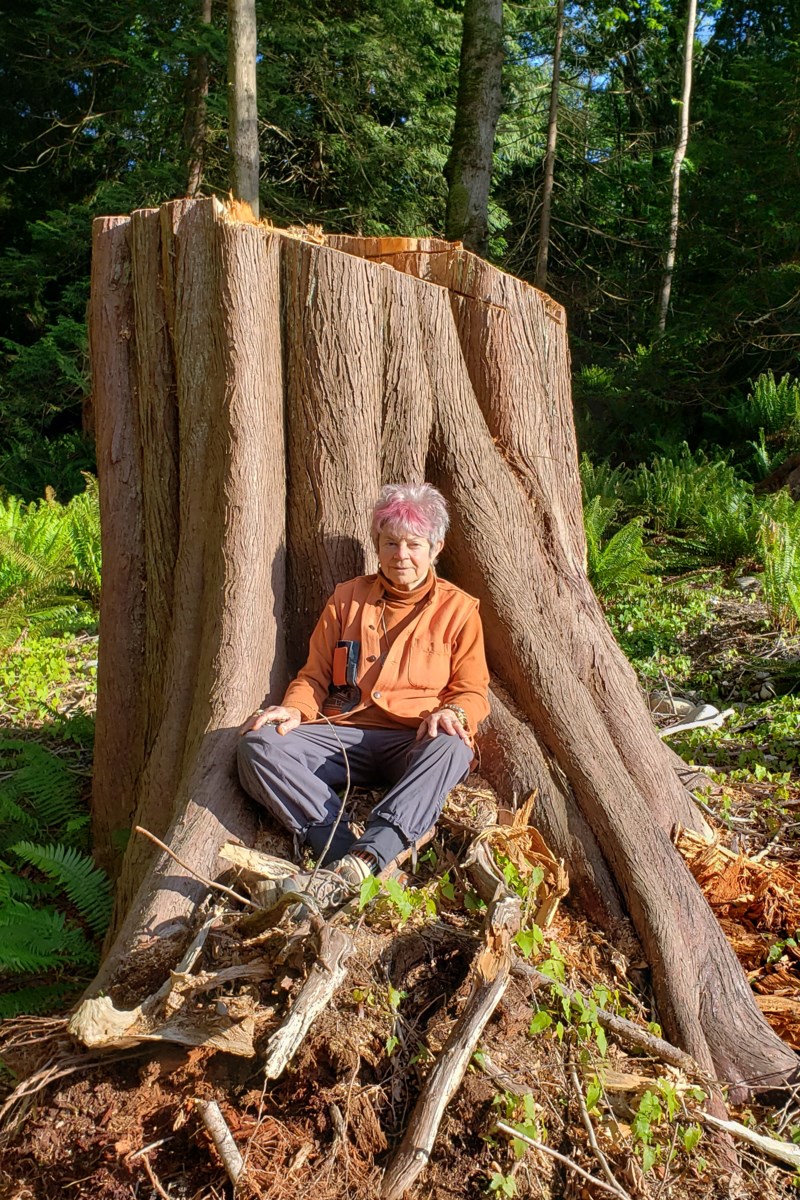 Offer meditation in the garden
"Stress kept many of us in our heads rather than in our bodies. A day in contact with nature can work wonders. "
I hope most of us survived the past year without going insane easily. To me, the constraints of socializing seemed particularly difficult. Fortunately, last year I came up with a few ways to really connect with others. In June, I organized a socially distant dance party on Bowfest Field. More importantly, I invited people interested in meditation to a combined garden, meditation and nature mandala workshop in my garden. Vera Keogh acted as co-helper and recited John O'Donahue poems in her lovely Irish accent. Four people attended, and then a school teacher invited me to give her students a meditation session. When school started in the fall, I gave a class to a group of teenagers at West Vancouver Secondary School.
With limitations, I plan to offer a guided meditation, with an emphasis on body awareness, especially breath and our connection with nature. Stress has kept many of us in our heads rather than in our bodies. A day in contact with nature can work wonders.
During this pandemic year, I connected with an old meditation teacher friend who offers lectures and guided meditation from a small cabin in France. I get the recordings early in the morning and often meditate with them in bed. While listening to Martin talk about the noises around us, I had the experience of hearing the birds outside his hut while at the same time hearing the chainsaws and the pounding of the beautiful trees across the street falling on me Ground.
The morning before I wrote this piece, I heard Martin say, "You may have a relationship with the magnificent trees in which you live and recognize them as blessed beings. Sit with them, feel their liveliness, constancy and the way they spread their roots into the earth and house birds. We know that trees communicate with each other, feed each other and warn of danger. "As he spoke, I remembered how much the felled trees meant to me and how I still sit on stumps with a cup of tea, on what I call the tree graveyard. Small green shoots are now sprouting from some.
I have extensive experience practicing Vipassana meditation in both India and the West. Also had some teachings from the Dalai Lama in Dharamsala where he has his monastery. I have given guided meditation sessions at the Orchard Recovery Center for many years and have given a meditation / writing retreat at a spa in Mexico. In 2017 I completed a mindfulness teacher training course in Germany with one of my long-time teachers, in the expectation that we would bring our experiences to our community. The belief is that we are working on ourselves for the benefit of others.
First of all, I would like all interested parties to contact me with their names, contact details and availability. My workshops are on a donation basis and I ask for a little help in my fairly large garden. The garden always needs a little loving care as it is full of pollinating wildflowers that multiply far too quickly. Since the weather is unpredictable here, I check the weather forecast and if it looks like the weather is catching up, I see who is available. I hope to have workshops all summer and can easily accommodate six at a time at a distance. I am also ready for one-to-one tuition and am open to all innovations. I can be contacted either on Facebook or at mykamikan@gmail.com. Further details and dates will be worked out when I receive feedback.