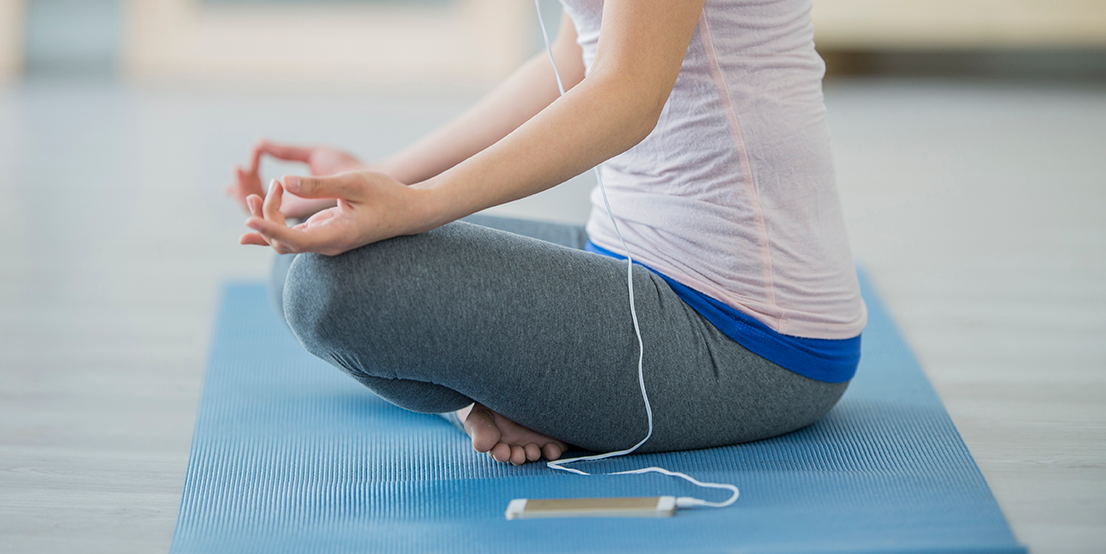 11 Best Meditation Apps 2021
Getty Images
For many, the idea of taking time out of your day to meditate may at first seem unattainable. But if you're dealing with moments in your day where you simply can't focus because you feel overwhelmed, there's a chance you may already be practicing some of the best tentpoles of modern meditation. Whether you're currently trying to balance a busy work-at-home schedule, or trying to hone your productivity skills for an upcoming exam, there are aspects of meditation that may help you train your mind to maximize your full potential. Yogmata Keiko Aikawa, an internationally renowned Siddha Master who has been previously sourced by the United Nations Culture of Peace Program, tells Good Housekeeping that meditation helps us organize our thoughts and physically calms an otherwise busy brain. "In other words, mediation means to do nothing, and to be here now or be in the present while suspending the activities of the mind. It awakens not mind, but consciousness, and purifies the mind," Aikawa explains.
Believe it or not, there's no right or wrong way to meditate, Aikawa says — it's about taking time to do so as frequently as you can. One way could be focusing on a "mantra," a chosen sacred sound that "serves to purify" when it's repeated, but most people develop their own solutions to reset and relax or destress in the moment. Overtime, Aikawa explains actively mediating could reduce fatigue, increase concentration, and improve your cognitive prowess.
Experts often preach the holistic benefits of meditation to those interested in improving their mindfulness — and yet, there are well-documented scientific points that suggest meditation may benefit anyone who is willing to practice it. Scientists have established that the brain can adapt with meditation over time: A 2017 study published in the Journal of Alternative and Complementary Medicine by a team of researchers at Harvard University found that people who meditated over an eight-week period were able to better regulate their blood pressure and inflammation through gene expression. Another 2013 study published in the Journal of Clinical Psychology found that clinically anxious people were able to significantly reduce their anxiety by, in part, practicing meditation during the same eight-week period.
How can I start practicing meditation?
In the last few years, mobile apps and their guided meditation services have gone online to help people become more mindful wherever they may be. Rachel Rothman, the Good Housekeeping Institute's chief technologist and director of engineering, says the best meditation apps have elements that blend auditory and visual guidance to help people practice meditation routinely. Some are free and could be a great way to get started if you've never meditated before, but others require a subscription to unlock more content for regular practitioners who need more variety to keep their routine in check.
Here, we're outlining some of the best services available to mobile users based on Rothman's recommendations, as well as current users' ratings.
Advertisement – Continue Reading Below
1
Calm
You may have already come across this mindfulness app before, as it's been downloaded more than 50 million times with a 4.8-star rating. Calm is celebrated for its relaxed approach to empowering users to generally ease into meditative practices. While there are certain programs within the service designed to address certain issues — anxiety, lack of sleep, stress — most users can complete a daily guided activity that helps them set time aside to meditate. Plus, with auditory bedtime stories as well as a suite of relaxing audio, this app can help you establish mental guided imagery, allowing you to use more than one of your senses to mentally remove yourself from your current surroundings.
Cost: $70 annually after a seven-day free trial.
User Review: "I got it solely for the sleep stories and I'm absolutely obsessed. It's like being a kid again and getting a beautiful story read to you by a soothing voice. While I use the app mainly for sleep stories I've used the meditation, background music, and breathing exercise options on the app as well."
Where to Download: Apple Store
2
10% Happier: Meditation for Fidgety Skeptics
This app has skyrocketed to popularity among users as it's modeled off the New York Times best-selling book by the same name. While its basic version is free, the premium version of the app can actually connect you to a library of more than 500 guided meditation videos that are designed for particular scenarios or moments in your day. Premium users will also be able to connect with experts who can answer questions as you go. But many reviewers say this app's video offerings set it apart from other options, as new series about mindfulness are regularly made available to subscribers.
Cost: Free to start, $100 for an annual subscription with a seven-day free trial.
User Review: "The hardest part for me was getting in the habit of using this daily. Luckily they have so many ways to integrate meditation and mindfulness into your daily life and tips to help you do it."
Where to Download: Apple Store and Google Play
3
Insight Timer
Nearly all of the apps on this list provide a free trial to a larger membership. But this app is one of the only ones that is entirely free to users, and it still manages to maintain a near perfect 5-star rating with more than 200,000 reviews on Apple's App Store. There are over 30,000 pre-recorded guided meditation sessions loaded onto Insight Timer, as well as the ability to refine sessions based on how long you have to practice. Furthermore, it comes with an in-app progress keeper that enables you to chart your progress and earn badges for the time you've spent meditating. The guided sessions are led by well-known yogis and mental experts as well.
Cost: Free, with optional in-app premium purchases for certain features.
User Review: "There are so many options to help beginners get started, from short meditations that can help busy clients dip their toes in the water and build their meditation muscles to guided meditations that really help people learn to calm their minds."
Where to Download: Apple Store and Google Play
4
The Mindfulness App
If you've previously practiced meditation and aren't looking for guided exercises, this service might be for you. Rothman says it allows you to create a custom session with flexible time periods, from 3 to 30 minutes in length, and select sounds like bells to best fit your needs. A premium subscription unlocks full courses on developing focus if that interests you, but the free version still allows you to integrate your phone's health app to keep an eye on how long you've meditating throughout the week.
Cost: Free, with optional in-app subscriptions of $60 for one year.
User Review: "I appreciate that my meditations are available at any time… It's simple, easy to follow and the people who provide the sessions are some of the most respected in the whole mindfulness movement."
Where to Download: Apple Store and Google Play
5
UnPlug
Some meditation apps are extensions of physical studios out in the world — like this one, which comes from Los Angeles-based Unplug Meditation Studio. It offers more than 700 meditation videos that vary in length; some are one minute while others are a full hour. You can customize your session by your mood, its time range, or your favorite teacher once you get going. All of the sessions are filmed live in the studio, so this is a great option if you feel like you practice best in a class setting with an instructor. Plus, the in-app progress options help you track just how far you've come since signing up for a membership.
Cost: After a 1-week free trial, $8 per month or $60 per year.
User Review: "I've been using this app for over a month and it's really helped me build a steady practice through keeping me accountable by keeping [usage] stats! I also love the journal aspect of it…"
Where to Download: Apple Store and Google Play
6
Headspace
It's one of the most popular options for people trying to improve their focus, but other users say Headspace can also provide temporary relief from daily stressors as they arise. You'll find plenty of quirky illustrations to help guide you along your meditation period, which could be guided, a mini session, or for designed for kids. Subscribers will also be able to partake in audio sessions designed to get you to sleep soundly through the night. While there's a small free trial, Headspace does eventually require you to fork over a membership fee, so it may be best for a family or someone really invested in daily practice.
Cost: $13 monthly with a seven-day free trial, or $70 annually with two-week free trial. Currently, the specially-curated "Weathering the Storm" collection of meditation content has been unlocked during the COVID-19 pandemic.
User Review: "Amidst my sometimes wild schedule I always try to meditate once per day, and the "daily meditation", 3 minute version is great."
Where to Download: Apple Store and Google Play
7
Relax Now
Simple and straightforward, Relax Now is just what it sounds like — a quick tool to help your body relax with recordings from certified hypnotherapist, David Ridgeway D. Hypn., M.N.C.H. Eight different videos provide immediate relief, but you'll also find plenty of recordings with multiple endings designed to either energize ("wake up") or calm you ("sleep"). There's also custom background music options for your meditation sessions.
Cost: Free.
User Review: "I used this app frequently, whether it was to help me sleep, or just reduce stress. The hypnotist's voice was soothing to listen to, and I loved how you could even change the kind of ambience you wanted to hear in the background."
Where to Download: Apple Store
8
Pzizz
While it's primarily designed for helping users get to sleep, the combination of music, voiceovers, and various sound effects used in Pzizz can help you zen out in an office or anywhere else during the day. There's also content within the app that can help you zero in on getting more work done, called "focuscapes." These sections have you get into full concentration via meditation and a "cooldown" section which helps you integrate back into your space.
Cost: Free for select features; $60/year for full access.
User Review: "This application essentially generates guided meditation sessions. It's a bit of a learned skill, but pretty fast to pick up. I find it helps me clear my mind from all the clutter which builds up over the day."
Where to Download: Apple Store or Google Play.
9
Aura
This meditation app has many avenues for helping you self reflect, including guided stories and music options — but it generates them for you based on the mood you're in! Along with tracking how much meditating you're doing, there's an option to track your moods over time, plus set reminders to practice mindfulness throughout the day in order to improve those moods.
Cost: Premium membership costs $12 monthly, $60 annually, or $400 for lifetime use.
User Review: "I love the three-minute meditations for days when I'm really rushed, and I listen to the life coaching or stories back-and-forth on my way to work and throughout the day as a pick me up."
Where to Download: Apple Store and Google Play
10
Simple Habit
If you feel like you don't have any time to actually practice meditation, Simple Habit's developers created their service with you in mind. The app is focused on daily stress relief, with five-minute sessions at the top of the list as well as sessions that are developed for traveling, like a morning commute program. You'll find motivational guides and bedtime stories as well.
Cost: $11.99 a month or $96 a year. Currently, it's free through the end of April 2020 for support during the coronavirus pandemic.
User Review: "It's made meditation simpler for me. The instructors' voices are soothing and visually I like the organization and simplicity of the app."
Where to Download: Apple Store and Google Play
11
Petit Bambou
New to the United States, this whimsical meditation service first became popular in France and in Europe, where more than 4 million people use the app daily. It's particularly well suited to beginners, but more so children, as it employs striking (and beautiful!) animations to explain how meditation works in the first place. There's guided meditation sessions for adults, but kids will love the relaxing sounds feature of the app, which allows them to hone in on a cartoonish scene come to life (like a roaring fireplace, or a rainstorm) that definitely inspires tranquility.
Cost: $8.50 a month or $72 a year, or a one-time payment of $280.
User Review: "Very easy to follow, nonjudgemental method for learning to increase awareness and the difference between thoughts, emotions, and consciousness through meditation."
Where to Download: Apple Store and Google Play
Zee Krstic
Associate Health Editor
Zee Krstic is a health editor for GoodHousekeeping.com, where he covers the latest in health and nutrition news, decodes diet and fitness trends, and reviews the best products in the wellness aisle.
This content is created and maintained by a third party, and imported onto this page to help users provide their email addresses. You may be able to find more information about this and similar content at piano.io
Advertisement – Continue Reading Below